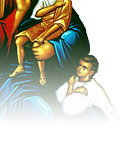 "For I was hungry and you gave me something to eat, I was thirsty and you gave me something to drink, I was a stranger and you invited me in, I needed clothes and you clothed me, I was sick and you looked after me, I was in prison and you came to visit me."- Matthew 25:35-36

October 8, 2009
Dear Youth Workers,
This week we highlight a wonderful program called YES that gives Orthodox youth a chance to participate in service projects. This program gives youth a chance to serve God through serving others. Visit http://www.focusnorthamerica.org/ to learn more and find out about other opportunities to serve.
With love in Christ,
The Department of Youth and Young Adult Ministries
---
What is YES?
The YES Program of FOCUS North America is YOUTH EQUIPPED TO SERVE. YES provides opportunities for junior high and high school students to participate in formative weekends of service, with the ultimate purpose being to raise up a generation of Orthodox Christians who lead others in living out the true mission of the church- to love and serve our most needy neighbors.
How does it work?
The students are taken through a four-step service-learning process known as E4- EXPOSE, ENGAGE, EQUIP, ENTRUST.
We first EXPOSE them to the reality of the poverty in the world through interactive curriculum. The students are presented with various questions: What does it mean that we are created in the Image of God? What is the true mission of the church, and what does it mean for each of us that we are members of the body of Christ? What are the stereotypes that exist within all of us that prevent us from putting the needs of others before ourselves? Is poverty a complex or simple problem, and what is our place in the solution?
We then ENGAGE the students in strategically chosen service projects. Each project is chosen based upon specific criteria known to be meaningful in service-learning contexts. With each step, the environmental or cultural tension of the service project becomes more complex. This "created tension" is by design, and provides the kind of context conducive for real spiritual transformation.
For the students that have participated in 2 weekend service-learning trips, they are then invited to a week of leadership training, where they are EQUIPPED with tools to guide others in service.
Lastly, they are ENTRUSTED with various leadership roles on weekend trips, and most importantly, with continuing the mission of YES in their communities, to inspire, lead, and educate others.
"Being face to face with the poorest of the poor opens a teenager's eyes to the true meaning of Christian life. They come to see that God has equipped them for His work. They come to see that they have been given the resources to meet the fundamental needs of people. They come to love God in ways they never have before because they are deeply thankful for what they have been given. Most importantly, they realize what it means to be the Church; they become Christ for all people and learn to see Christ in everyone they meet in their daily lives." Katrina Bitar, YES Program Director
Proverbs 22:6 says, "Train up a child in the way he should go, and when he is old he will not depart from it." The YES Program is heeding this instruction to "train up" our youth to have a real awareness of who God has created them to be. Teenagers are constantly confronted with images, words, and people who present different ways of life to them. The YES Program aims to present to them the one true Way of life in Christ- death of the self for the sake of the other. Our prayer for the students that come through our program is that they embrace life in Christ themselves and are empowered to live it!
The YES Program of FOCUS North America would love to come to your community!
For information on upcoming trips or to host a trip in your city, please contact Katrina Bitar, YES Program Director: JavaScript required to view address.

http://www.goarch.org/archdiocese/departments/youth/youthworkers/youth_listserv
Department of Youth and Young Adult Ministries
Greek Orthodox Archdiocese of America
83 Saint Basil Road, Garrison, New York 10524
Tel: 646.519.6180 • Fax: 646.519.6191 •
e-mail:

JavaScript required to view address

• web: www.youth.goarch.org