YES trips are weekend experiences for young people. Each weekend trip is designed to expose and engage the participants in understanding and serving the needs of their community. YES experiences also equip and entrust participants with servant leadership tools and opportunities, allowing them to carry what they learn beyond the weekend and into everyday life.
Usually, YES trips bring friends and strangers together for an intimate weekend of learning, stretching and growing. However, this spring we are navigating, alongside the rest of the world, a new reality that (out of necessity and love for our neighbor) prioritizes social distancing over community gatherings.
Regardless of social distance, YES continues to build community and carry out their mission by organizing new digital opportunities that expand upon their traditional programs while still Seeking to love Christ and each other, creating opportunities for participants to engage with the poverty of their city, and equipping them to become servant leaders in their own communities.
What can you do?
YES is offering something new every week including daily blog posts, online trips and world parties, video check-ins from leaders, and virtual movie nights with guided discussions.
During this time of the COVID-19 pandemic, many people all over the country are being affected in ways we could never imagine. Staying at home to keep ourselves and others safe…it's easy to think there's not much else that can be done.
But, like YES leaders often share with participants during trips, there are always opportunities to serve! You can serve by better understanding your community's needs, and doing a community assessment. Another way to serve while social distancing is to make a prayer list for the people in your life.
YES has shared different ideas on ways you can serve today, which you can read on their website:
www.yesnorthamerica.org/servetoday
YES Holy Week Schedule
DAILY READINGS from St. John Chrysostom's "On Living Simply." View readings on our Facebook and Instagram.
Holy Monday: Discussion on "The Letters." 4pm ET, 1pm PT
Holy Tuesday: Call to Action: Reflection on The Bridegroom Hymn. 4pm ET, 1pm PT
*After Holy Week, we will resume our regular weekly schedule
Call to Action – April 14th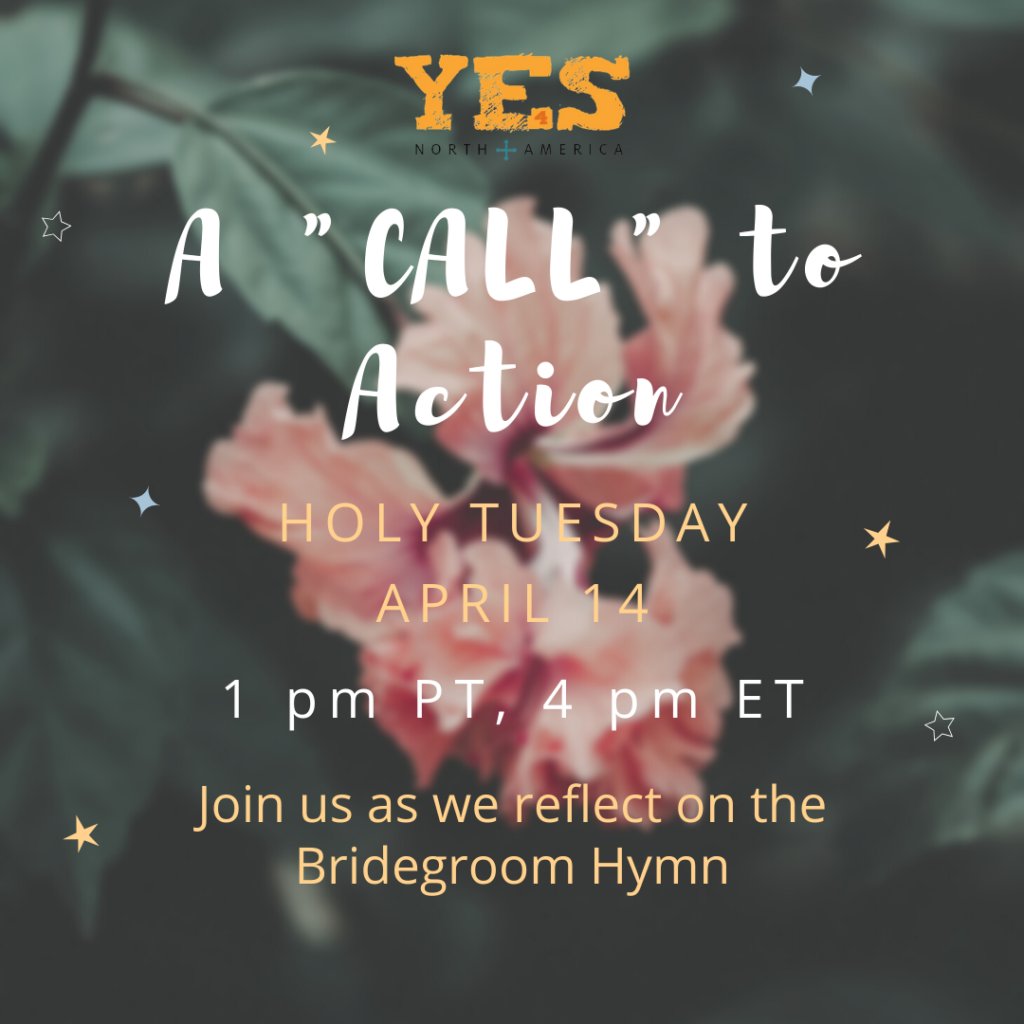 We invite you to join our next "Call to Action."
Be with us as we seek to create an open space to discuss awareness and care for ourselves and others.
EVERY CALL WILL OFFER SOME KEY ASPECTS OF THE YES EXPERIENCE PERSPECTIVE ON:
Becoming servant leaders
Exposure to the suffering in your city
Participating in God's healing work in your communities and the world
Be with us as we come together in the ways that we can.
Join Zoom Meeting (web link) | Additional Call-in Information
Movie of the Week! – April 13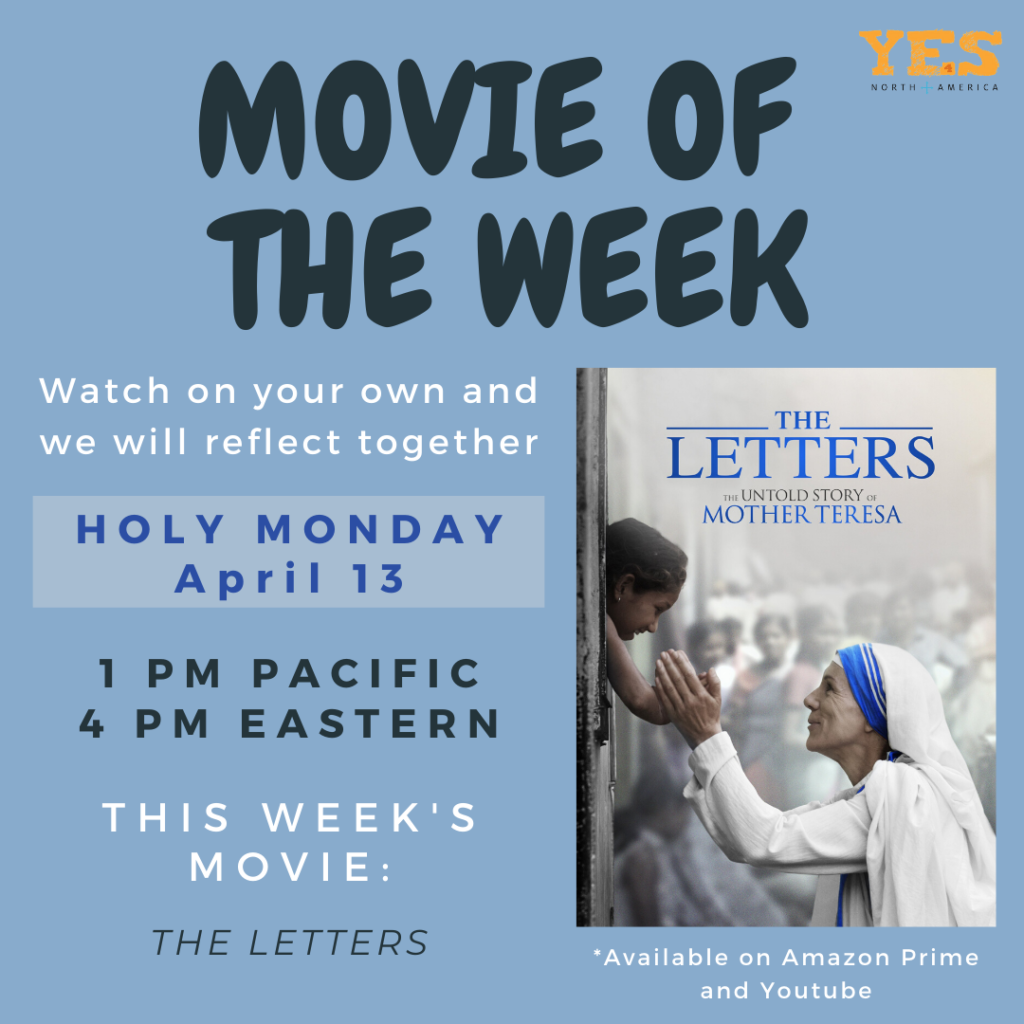 Watch a movie (chosen by our YES team) on your own each weekend, then come together on a zoom call to reflect and discuss what you learned!
Movies we've watched together: Won't You Be My Neighbor, I Am
Join us for our next movie this weekend: The Letters
Join Zoom Meeting (web link) | Additional Call-in Information
World Party – April 12th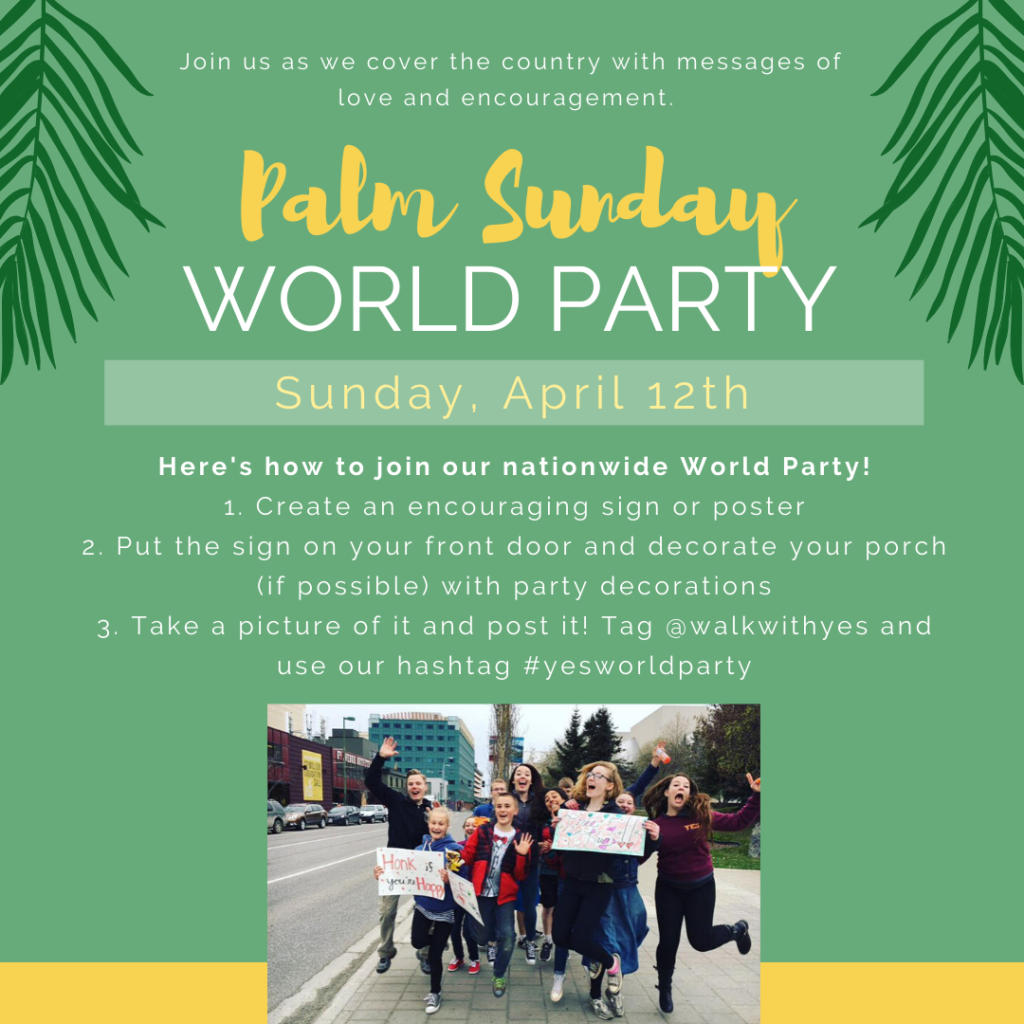 Have a WORLD PARTY. This Sunday share messages of joy and love with your neighbors.
Create an encouraging sign or poster
Put the sign on your door and decorate your porch (if possible) with party decorations
Take a picture of it and post it! Tag @walkwithyes and use our hashtag #yesworldparty
Daily YES Blog Posts
Reading, writing, or listening to music are all great ways to fill a moment. YES has been publishing daily blog posts, which you can read here:
---
Youth Equipped to Serve is a program of FOCUS North America that creates opportunities for youth to engage with the poverty of their city, equipping young people to become servant leaders in their own communities. Learn more on the YES program website: www.yesnorthamerica.org