Theodora and Troy Polamalu are teaming up once again with FOCUS North America in their annual Tackle Poverty campaign. Enter to win a signed Polamalu jersey or signed football by re-sharing a post related to the jersey contest at FOCUS North America's Facebook page, or Troy Polamalu's Facebook page. Or earn up to 200 more entries by texting TROY to 91011. It's free to text! Click for contest details, focusnorthamerica.myw2m.com.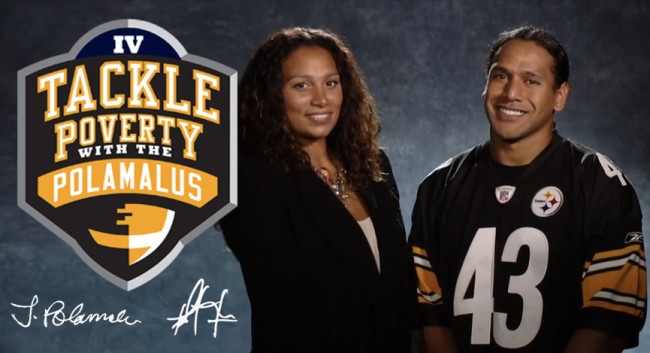 FOCUS North America is a faith-based national organization that works to transform the lives of the homeless and working poor in America. FOCUS has operations and programs in 30 cities across the United States. All of FOCUS North America's services are provided without discrimination of any kind and never require a faith commitment from anyone receiving assistance. What makes FOCUS different is a commitment to help people through the creation and development of community support networks. FOCUS creates a comprehensive support system built around individuals and families that provides opportunities and support through all phases of the transition from lives of dependency to self-sufficiency.
Theodora Polamalu is an advisory board member and strong supporter of the work and ministry of FOCUS.
Official rules and regulations can be viewed here.