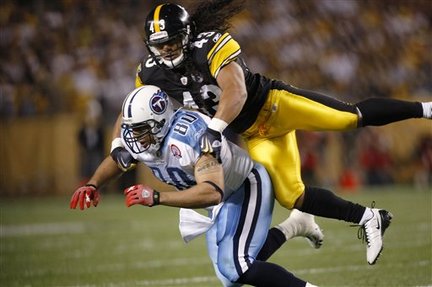 FOR IMMEDIATE RELEASE: (Oct. 3, 2011) Troy and Theodora Polamalu, faithful Orthodox Christians, have joined FOCUS North America to "tackle" poverty.
TacklePoverty.org campaign, which runs from Sept. 26, 2011 to Feb. 5, 2012, hopes to inspire 10,000 people to take action and help those in need.
"We've kicked off to a solid start in an effort to reach 10,000 now let's go further," Troy Polamalu said. "Together we can tackle poverty!"
Visit TacklePoverty.org to learn about the many ways FOCUS NA is working to help the poor nationwide. Watch Troy and Theodora's video messages, make a donation, and put together a team of friends to tackle poverty. Tacklers will win cool prizes while creating much needed awareness about the plight of the working poor. Get 25 friends to donate and win a Tackle Poverty T-shirt. Inspire 43 friends to donate and get a signed Polamalu poster. With 100 friends donating, you get a signed Polamalu jersey (#43) and have your name put in the drawing to win Steelers home game tickets! You can also text "Troy" to 52000 to make a $10 donation.
You can see the Tackle Poverty campaign on Troy's Facebook and Twitter sites. Check in with Troy each week as he reminds fans of the importance of this worthwhile effort to help the poor. With over 1.8 million Facebook fans and 275,000 Twitter followers, the response could make a huge difference in the lives of working poor individuals!
"This is a great opportunity to inspire friends, coworkers, and others you know to join with you in helping the poor at a time when 15% of our neighbors in America are below the poverty line," FOCUS NA Executive Director Fr. Justin Mathews said. "If you have a heart to help the poor, you can inspire others too."
###
Visit TacklePoverty.org to start making a difference!