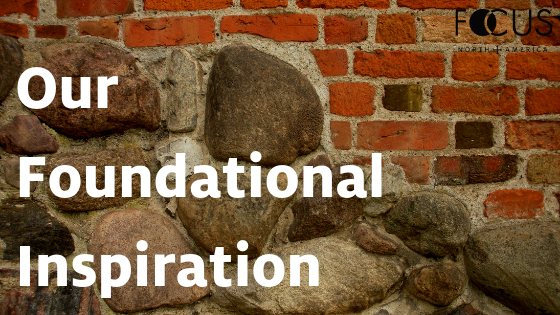 This Sunday is a special one for all of us who serve, work, support and pray for the ministry of FOCUS.
If you're reading this, no doubt that includes you.
Today's Gospel, the famous account of the Last Judgment in Matthew 25, is the foundational inspiration for all of our work. As our Lord says to those who provided compassionate service and care to those less fortunate: "Assuredly, I say to you, inasmuch as you did it to one of the least of these My brethren, you did it to Me" (Matthew 25:40).
What a beautiful and yet sobering maxim!
How often, given the atomized patterns of modern civilization, are we truly attentive to those who are "the least" in our lives and neighborhoods? Yet Jesus calls us to serve not only those who are close, those whom we already like and know, but precisely those who might be least on our minds, who might be ignored or alone or not blessed with the love and support of friends and family.
Further, in today's Gospel reading Jesus calls us to pay special attention to the very practical, corporeal needs of those without sufficient food, clothing, and financial resources. Doing so is an inherently spiritual act, because when we give freely and generously, we actually experience a glimpse of God's very person. In the words of the Apostle Paul: "For you know the grace of our Lord Jesus Christ, that though he was rich, yet for your sake he became poor, so that by his poverty you might become rich" (2 Corinthians 8:9).
Giving of ourselves ultimately conforms our minds to the image of Christ. As it says in "A Prayer for FOCUS," which I certainly hope you will make part of your Lenten journey:
Help us to strip ourselves of our earthly adornment,
that the poor may be sufficiently clothed and fed.
And, by so loving our neighbor,
adorn us with the everlasting pearls of virtue instead.
Where there is suffering, help us to bring Your mercy.
Where there is despair, Your hope;
Where there is pain, You who are the Comforter;
Where there is hatred, You who are Love.
As a Fellowship of Orthodox Christians United to Serve, our goal is to empower and walk alongside those who want to follow the calling of our Lord in Matthew 25. Throughout the country, we are feeding, clothing, housing, and serving our neighbors in need every day. Thank you for being a part of that mission, as a volunteer, advocate, or supporter.
With prayer and love in Christ, and wishes for a blessed Lent,
Seraphim Danckaert
***
This Lenten Season, join our journey through "40 days with FOCUS," a special weekly blog series where you will hear Lenten reflections from different servant-leaders who work within our organization. We are excited to share wisdom from the men and women who lead our ministries across the country with love and live out the mission of FOCUS every day in their work and lives. Thank you for reading! Make FOCUS part of your Lenten Almsgiving Today