For people who have been caught in destructive lifestyles, one of the hardest things is to break free from their past and to start a new life.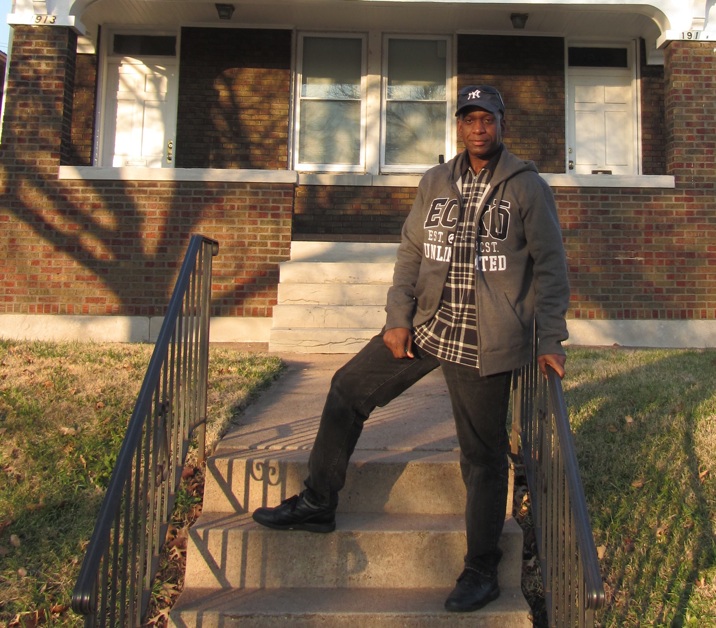 Mike stands in front of the FOCUS Men's House
Mike was one of those guys. "He did what he could to hold down a job, but because of some unfortunate circumstances, he was living in a friend's apartment, sleeping on the couch where reckless parties were held every night. Trying to sleep in a place like that, he was getting into trouble – missing shifts and showing up to work late," said Eric Shanburn, the director of FOCUS in St. Louis, Missouri.
Mike didn't have anywhere to go and didn't have a support network to help him succeed. Statistics show that far too often, the surrounding environment can hamper even people who want to live a stable and productive life.
Breaking free from a destructive environment takes training, support and mentoring – in addition to a stable job and secure housing. Mike found all of these crucial elements to a self-sufficient life at the FOCUS Center in St. Louis.
"He became a friend to those of us here at FOCUS," Shanburn said, "And when he heard about our Man Class, he jumped at the opportunity to participate."
"The Man Class" is a 12-session course offered by FOCUS and its partner organization, ReEngage. The course targets men who are seeking to break free of negative environments and live stable, independent lives. Participants are taught key lessons in fatherhood, job readiness, and basic financial management.
Mike was excited about the course and the housing option that FOCUS offers to men who graduate from it.
"Graduates have the opportunity to live in a house that FOCUS operates next door to our Center. The FOCUS House provides a safe place where the men can live while they get back on their feet," Shanburn said, "The rent they pay is lower than market value for the surrounding area. Anyone living in the House has to follow a list of rules and they also receive hands-on mentorship from local Orthodox professionals who guide the men with sustainable life skills – things like opening a bank account and time management."
Mike was eager to enroll in the program and further his involvement in the FOCUS community.
"He came through the Man Class, lives at the FOCUS House and he's doing extremely well," Shanburn said.
Through FOCUS' help, Mike is working full time and spending his Sundays at church. He's able to comfortably pay his rent and utilities every month and he volunteers at the FOCUS Center to help others in similar situations.
FOCUS was there to give Mike the resources he needed – job assistance, housing, and mentoring – providing him and many others with the necessary tools to move forward, into a successful, self-sufficient life.
Through FOCUS' programs, Orthodox professionals use the skills that they have to mentor men, women and families in need, building lasting relationships that provide effective healing and positive change.
Each year through FOCUS, thousands of individuals and families across America are equipped to break free from the cycle of poverty and dependency. Through your support, FOCUS continues to serve as a witness to the teachings of the Orthodox Christian faith and to engage faithful people in bringing real and lasting assistance to those in need.