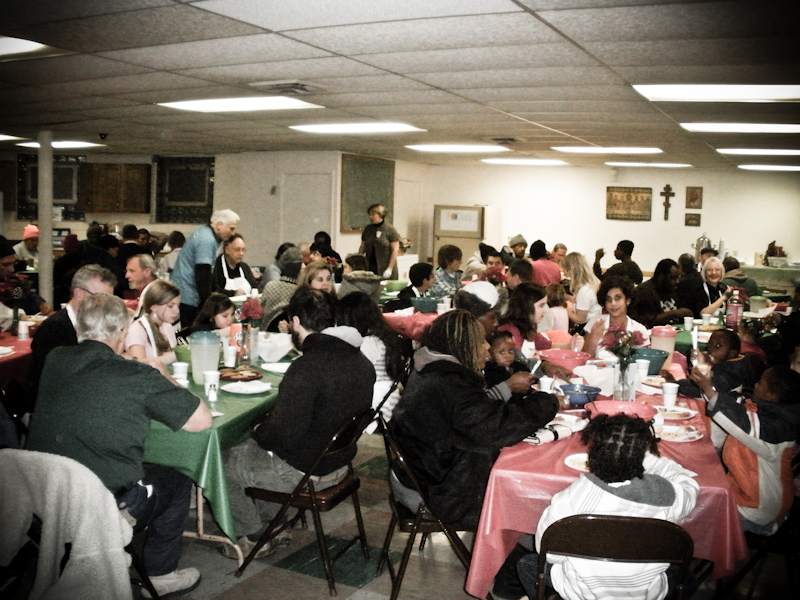 Earlier this year, George's house burned down. While his wife and three kids now share a two-bedroom house with another family, George chooses to stay at a shelter to provide more room for his family and so he doesn't burden their hosts. Working odd jobs helps pay for some of his families needs, but it isn't enough to move them into their own apartment.
He likes going to the Sunday night meals at FOCUS Gateway City (St. Louis, MO) because, "people actually sit down and talk to me," he says. FOCUS Gateway City serves all its meals "family style" so the volunteers sit with guests and everyone is served from the same bowl at the table. For volunteers it may seem like a small thing, but to people like George it provides a sense of "family" when one may be scarce.
Last Sunday's Christmas party and dinner was no different. Families, single men and women, homeless individuals and those who work but still cannot pay for enough food to get them through the week … All sat together and enjoyed a hot meal, Christmas carols, and even presents. And George's family was there too!
All Saints of North America Antiochian Church and Assumption Greek Orthodox Church's Philoptochos chapter collected Christmas gifts for the children and adults attending the party. Together they collected over 100 presents!
Volunteers from All Saints and St. Basil Russian Orthodox Church Outside of Russia served food, sat and fellowshipped with guests, led partygoers in Christmas carols and handed out the gifts. In addition to the many toys, books and other children's gifts, adults received scarves, blankets and gloves.
A group of three men were particularly happy about getting blankets, said FOCUS Gateway City Director Eric Shanburn. "These three guys are regulars," explained Shanburn. "They don't like to stay at the shelters because their stuff gets taken, there are too many fights, and it doesn't ever seem to work out well for them."
Shanburn said that a couple weeks ago when the temperature was in the teens, the guys told him they almost had all four walls completed on their makeshift shack. "They needed blankets and we didn't have any," Shanburn said. "They didn't even have any hats on."
Well at Sunday's Christmas party and dinner, the three men got some blankets and hats to help keep them warm as they continue to struggle with life on the street. Additionally, Shanburn and local FOCUS Gateway City volunteers are working with these any many others to find safe housing and life-recovery.
Shanburn said he was most impressed by a six-year-old boy named Isaiah. "I hadn't seen him in a few weeks and had been sending cookies home with neighbors to give to him," he said. Isaiah lives near the church where FOCUS Gateway City serves meals and Shanburn said the boy had been looking forward to his Christmas gift for three months.
Isaiah showed up late and announced to Shanburn, "I'm here! Do you have a Christmas gift for me?" Shanburn gave him his gift and Isaiah was so grateful for his one new thing. "So may of the kids and families were interested in having more and Isaiah was content with his one thing and never asked for anything else."
gallery/FOCUS-GC