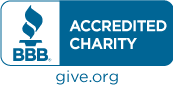 FOCUS North America has received the Better Business Bureau's (BBB) Wise Giving Alliance National Charity Seal. The BBB Wise Giving Alliance is the most experienced charity evaluator in the United States and the appearance of the seal on FOCUS' website, in mailings, magazines, or elsewhere is a clear and concise sign that FOCUS meets the Alliance's Standards for Charity Accountability — standards that go beyond what government regulators require.
Before national charities can even apply to use the seal, they must undergo evaluation from the BBB. The evaluation process is anything but superficial; it involves rigorous scrutiny of a charity's governance, effectiveness, finances and solicitations and informational materials. Organizations must pass 20 distinct managerial, ethical, and financial standards before being considered for the program.
"It has been an intense process," says FOCUS Executive Director Nicholas Chakos, "but we're overjoyed to commit to such a high standard of accountability and organizational excellence for the sake of our supporters and donors."
FOCUS North America is a national movement of Orthodox Christians, united in faith and joined by a desire to provide action-oriented and sustainable solutions to poverty in communities across America. Each year, FOCUS helps thousands of homeless and working poor families. FOCUS transforms lives, moving people from dependency to self-sufficiency by helping people obtain jobs and permanent homes, and providing children with educational resources. Through all of our programs, FOCUS promotes the engagement of Orthodox Christians in practical, hands-on activities that serve those in need. FOCUS has operations and youth volunteer experiences in more than 30 cities across the United States and a volunteer corps of 7,000.