FOR IMMEDIATE RELEASE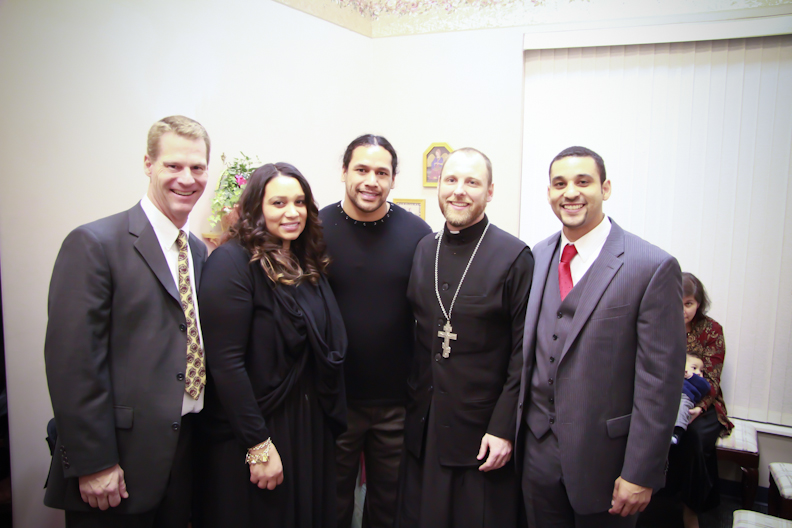 PITTSBURGH, PA (Jan. 25, 2011)—Speaking to over 450 people at the Jan. 25 FOCUS Pittsburgh fundraising dinner, Theodora Polamalu challenged those present to put their hope and desire to help those in need into action.
Theodora and her Super Bowl-bound Pittsburgh Steelers husband, Troy Polamalu, are committed to caring for those in need. Theodora, FOCUS North America Advisory Board Member, said during her address to the crowd, "to treat every person as an icon of Christ is the foremost principle of FOCUS, the heart of its mission."
Seeing that mission realized is what brought such a large crowd to the event, which was hosted by Holy Cross Greek Orthodox Church's Philoptochos Chapter and sponsored by the Pittsburgh Clergy Brotherhood. Through tickets sales, auction items, sponsorships and general donations, the event raised nearly $65,000 to further the good work of serving those in need.
"Word got out about the event and people started lining the walls," Thea Martin, Philoptochos Chapter President, said of the event which had been sold out for over a month. "The great thing is that people are excited about having a FOCUS center here. I am already hearing from people who want to help out."
Paul Abernathy, FOCUS Pittsburgh Local Director, challenged citizens of his hometown to work with FOCUS to "find the solution and get it done because people on our streets are suffering."
"The generosity of those in attendance have brought great enthusiasm and hope to the success of FOCUS Pittsburgh," Abernathy said. The FOCUS Pittsburgh center aims to have its full spectrum of services—Food, Occupation, Clothing, Understanding, Shelter—operational by Bright Week 2011.
Abernathy said the success of the event demonstrates "the power of God working through Orthodox Christians to further His kingdom in Pittsburgh."
Charles Ajalat, Chairman of the Board of Directors for FOCUS North America, said the event was an exciting beginning to what will prove to be a godly and worthwhile effort for those in need in the Pittsburgh area. "The Pittsburgh community is ready to engage in serious Orthodox social action through FOCUS North America," Ajalat said.
Guests enjoyed a gourmet Greek dinner, guest speakers including Theodora Polamalu, a silent auction with nearly 100 items including autographed Steelers jerseys, golf packages, jewelry, wine, restaurant and hotel certificates, and much more. Martin said having Troy and Theodora Polamalu there made it extra special for those who call Pittsburgh home. Excitement over the Polamalus showed with two people paying up to $5000 for signed Polamalu jerseys and another eight people bidding $12,000 for dessert that night with the celebrity couple.
"The first thing Troy did when he arrived was went into the kitchen and thanked everyone for their hard work," Martin said. "It really set the tone for the night and got them excited."
Theodora reminded guests that with nearly one-third of Pittsburgh's kids living below the poverty line and over 1400 homeless living in the city, the work of reconciling the needs of others is great.
She said she and Troy hoped that "whether the name is Polamalu or Smith, we will all share the responsibility of lifting the great name of our Lord and Savior Jesus Christ whose name is above all names." This lifting up of the Lord through the love of our neighbor will take the "aggressive and concerted means of all those gathered."
If you want to support FOCUS North America or want to hear more about what FOCUS is doing in other cities click here!
Photos from the event: gallery/1-25-2010