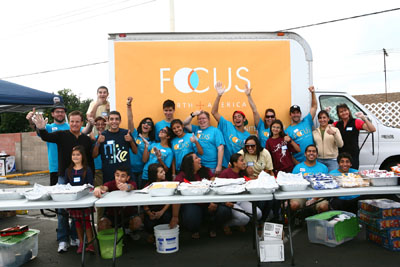 While some families are trying to decide between a visit to Grandma's on Christmas, or how much turkey to cook for their guests, others are trying to make the difficult decision between shelter or food this holiday season.
November marked the beginning of FOCUS Orange County's weekly ministry to the area's working poor. Sunday nights at the Valencia Inn an average of 35 FOCUS Orange County volunteers serve over 100 hot meals and give away free clothing to working poor families living in area motels.
Motel owners know that many families will be moving off the streets during this holiday time to try and provide the gift of a warm bed and running water for their families. In order to afford the motel room, many will sacrifice money they would have spent on food. In an effort to make sure these families do not have to choose between shelter and food, FOCUS Orange County is partnering with area Orthodox churches to collect food to stock the El Dorado motel's food pantry, which also services those living at the Valencia motel.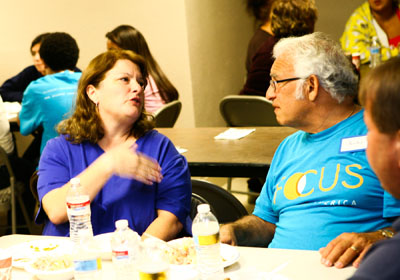 In the month of November, FOCUS Orange county also partnered with the City of Anaheim to provide food for people attending the city's vaccine drive for the working poor. Through the generosity of St. Paul Greek Orthodox Church's Philoptochos chapter, food and supplies were purchased for the event. Volunteers from St. Mark Antiochian Orthodox Church, St. John the Theologian Antiochian Orthodox Church, St. Paul Greek Orthodox Church, St. Marina Coptic Orthodox Church and St. Mary and St. Verena Coptic Orthodox Church helped with the event and served 100
hot dogs and 150 hamburgers to families who were waiting for their vaccinations. FOCUS volunteers also ran a kid's fishing game booth at the event.
Through the prayers and financial support of faithful people, FOCUS Orange County continues to work hard to assist the working poor in its area.