Last month, 30 Focus North America volunteers (aged 9 to 69) drove the 943 miles from the Kansas City area to Bakersville, North Carolina to help do work projects for some of the needy families in the area.
Times are tough everywhere nowadays. However, Mitchell County, North Carolina has been hit especially hard since the local textile industry was outsourced overseas and left the economy with a 20% unemployment rate.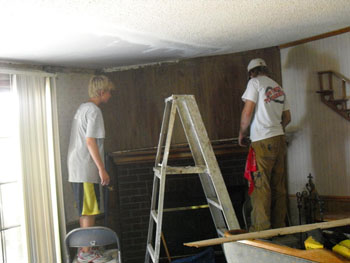 The FOCUS North America mission team was able to help several families during this difficult time.
Melvin had to quit his job in a grocery store when his back gave out, and Marcia had been unable to work since her health issues had confined her to a motorized wheel chair. This past winter, the record amount of snow caused their roof to leak and destroy their ceiling. They were able to patch the roof, but they could not fix the damage done to their ceiling. FOCUS North America purchased the materials and provided the volunteers to fix their ceiling. A team of eights served in Melvin and Marcia's house for three days, removing and replacing the rotten ceiling panels in the living room, dining room and two bedrooms. Melvin said, "I thank my God for you (the Focus volunteers) coming and serving. You are a real blessing."
Amber and Burt were at their wit's end. Their ten-year-old son Gabriel was born healthy.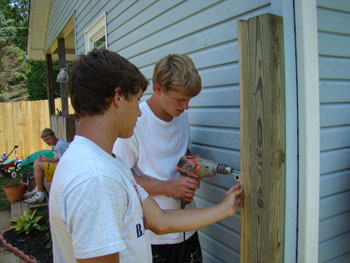 However, right before he entered pre-school, he was diagnosed as having autism. Gabriel had an uncanny ability as an escape artist. His passion was picking locks, windows, doors—any form of containment. At first it was cute to Amber and Burt, but it became more serious when Gabriel would escape and run onto the country road at the bottom of their property. Underemployed and under-resourced, Amber and Burt could not afford the materials nor the labor to construct a safe-solution for Gabriel's containment—a picket fence. Gabriel could not climb up and over a picket fence. Focus volunteers from Kansas City brought with them funds for concrete, rails, pickets, and hardware as well as a generator, power tools and an air compressor. Over three days, six Focus volunteers erected a Gabriel-proof containment system—a 6 foot picket fence—around the perimeter of Amber and Burt's home. No longer fearing for her son's safety and able to sleep at night for the first time in 5 years, Amber offered, "I don't know what to say…this gift has changed our lives…"
Geneva Wilson has lived up in the hills for all of her 100 years. As a "colored person," she and her husband were denied access to an education and good jobs. But they scrapped enough together during the depression to purchase land and build their home—the home Geneva still lives in on her own. Until last month, it had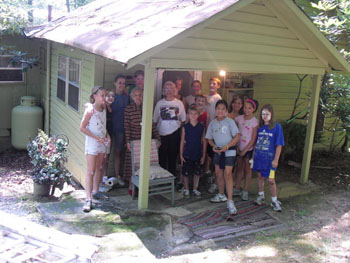 only been painted once. Then Focus team from KC arrived with scrappers, ladders, paint, brushes and rollers. Eleven volunteers blanketed the sweet little home in the woods, lovingly applying a coat of protection on the wood that can surround Geneva for the next 100 years. Said Geneva,"I have never heard of somebody painting somebody else's house for free—and driving a long way to do it. I want to say thank you."
But the needs far exceed the demands. Though this first team of Focus volunteers was able to fund the materials for and complete six projects, Focus has an ever-growing list of needs in the area that now exceed 45 projects.
Focus—Appalachia is putting out a call to Orthodox Christians nation-wide. Bring a team from your church to serve. When you arrive, Focus can connect your team with appropriate projects for you skills and budget. Focus can arrange lodging, meals and logistics. Our Lord said, "The harvest is plentiful but the laborers are few. Beseech the Lord of the harvest to send workers into the fields." Focus is praying for God to send more teams to Appalachia. Is that you?
Click here to e-mail Bryan Dahms, National Director of Ministries, about your interest in sending a group from your parish to Appalachia.