Working at St. Herman House – FOCUS Cleveland, I'm grateful for many things. Some are obvious, like volunteers. We serve more than 70,000 meals a year and our building is more than 120 years old, so we always need lots of help! We are blessed with hundreds of volunteers of all ages. Some serve meals, others cook, others repair broken appliances and fixtures. Together, their support is invaluable. I am always moved by the faithfulness of our volunteers and the joy they demonstrate in serving.
I'm also grateful for something else that won't surprise you – donations! We are always in need of financial and material donations and I feel thankful for the many people who include us in their giving. Not infrequently, we are blessed by the generosity of people whom we don't even know.
But here's something (or rather some people) that I'm grateful for that you may not have guessed – the men of St. Herman's. Sometimes when we think of serving those in need, we can fall into the trap of thinking that service is one directional – one person (with means) helping another person (without means). But that thinking denies the reality that everyone, regardless of status or condition, has something to offer. Life at St. Herman's demonstrates that repeatedly. It's no exaggeration to say that St. Herman's wouldn't be able to function without the men who live here.
St. Herman's Joyful Givers
Coley, Jeff & Marty
There's Coley, who has been living at St. Herman's for many years. Coley is tireless in his work around the house. He's often doing jobs that are unpleasant, like unclogging toilets. He always goes about his work quietly, never complaining and never disturbing anyone. When he's not working, he enjoys sitting on the wide front porch (which he also sweeps and keeps clean).
There's Jeff, another long-time resident, who walks through the house with a bucket of cleaning supplies. He cleans the bathrooms and takes out the trash. And Marty, who wakes up at 2 am to start getting ready for breakfast and who can always be found washing dishes at meal times. He lovingly cares for the house dogs and walks them around the neighborhood multiple times a day.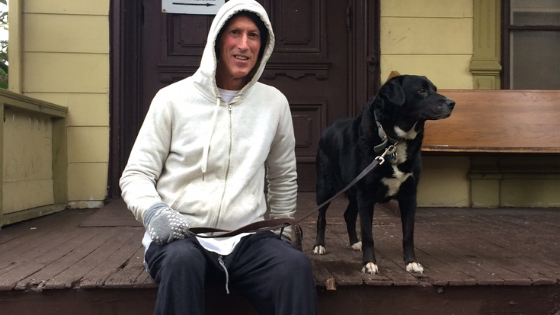 Albert, Paul & Roy
Albert is the office assistant. He keeps track of many things, including donations, volunteers and meals served. At any point in time you can ask Albert "How many meals have we served this month?" or "How many bags of clothing have we given away?" and he can answer it within minutes of looking at his computer. There's also our resident Paul, who despite some health issues, spent countless hours planting flowers and gardening this past spring and summer, making the yard look beautiful. And then there's Roy, who came to St. Herman's in 2007 and has been the resident house manager and volunteer coordinator for much of the 12 years since. When anyone needs anything, Roy is generally the first person they turn to. He is answering phones and fielding requests from the time he wakes up until the time he goes to bed.
Those are just 6 of our residents. When the house is full, we have 22 more, not to mention the 12 in our transitional house! So, you can imagine that the list of ways in which people contribute goes on and on. Their service is a reminder that everyone, regardless of circumstance, has something to offer.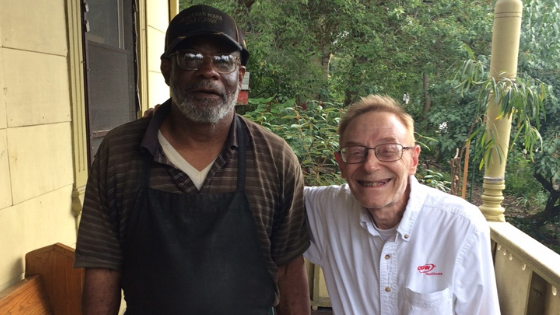 And, maybe even more importantly, the men of St. Herman's are a testament that it's not just about what is offered, but about how it's given. Every day, countless people walk through our doors. They come for a meal, to use the bathroom, to ask for a bus pass, a sandwich, clothing, a cup of coffee, or for companionship. Who greets them and responds their needs? The men of St. Herman's. They do it tirelessly day in and day out, with compassion and patience.
Their steadfast service is humbling, and truly a thing to be grateful for.
Written by: Santhe Loizos, St. Herman House – FOCUS Cleveland Assistant Director
---
"Rejoice always, pray constantly, give thanks in all circumstances, for this is the will of God in Christ Jesus for you" (1 Thess 5.16–18)
This month join FOCUS on a journey of gratitude. Follow us on Social Media and Subscribe to our newsletter for a free guide to everyday gratitude. Join us on Gratitude Tuesday, December 3, celebrate and encourage the generosity that stems from gratitude.