Everyone knows the building anticipation as the kids get ready to go back to school. There's excitement and nerves, eagerness to start a new year, sadness that summer is ending. Unfortunately, counting down the days to a new school year is yet another reminder of struggle for many kids across the country. Imagine how excitement would turn to trepidation if going back to school meant a supply list filled with items that mom and dad couldn't afford, sneakers from last year that don't quite fit, and hand-me-down clothes from older sibling that leave you feeling less than confident.
It's hard to for struggling families to prepare for a successful school year when they are in the midst of crisis. Wherever homeless families end up staying, if it's not a permanent, sustainable home, the children suffer incredibly from constant displacement and insecurity. If parents can't afford a place to live, how will they equip their children with the supplies necessary to attend school?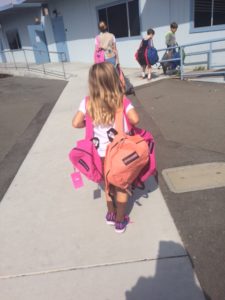 FOCUS North America's Back to School program involves parishes across the country in providing high quality backpacks, school supplies, and clothing to children when it is time to return to school. FOCUS works closely with school workers in every community to ensure that donated items are given to the kids who are experiencing homelessness, living in hotels, or doubled up with friends or family.
A study by the National Law Center on Homelessness and Poverty found that there is no jurisdiction in the United States where a working family of four, earning the poverty threshold wage of $24,000, can afford even a one-bedroom home at fair market rates. This means that there are struggling families in your town. Even if the poverty is not always visible, it is always present.
FOCUS needs you to help meet these basic needs, and take the stress off of many hardworking families that are already stretched thin. Help us give kids everything they need to get back to school and succeed in acquiring an education.
FOCUS will send participating parishes high quality backpacks with a packing list of items to fill them with. Filled backpacks will be collected at the parish. Through our school district partnerships, FOCUS will ensure the backpacks and supplies are given to the kids with the greatest need in your own city.
If you know your parish, SOYO, church school, women's group, or other group would love an opportunity to bring FOCUS' Back To School program to your town, contact us today! This is a great opportunity for groups that regularly work with FOCUS, as well as new communities who may be just figuring out the best way to serve.