Last Updated on Friday, 28 January 2011 01:54 Thursday, 27 January 2011 22:26
FOR IMMEDIATE RELEASE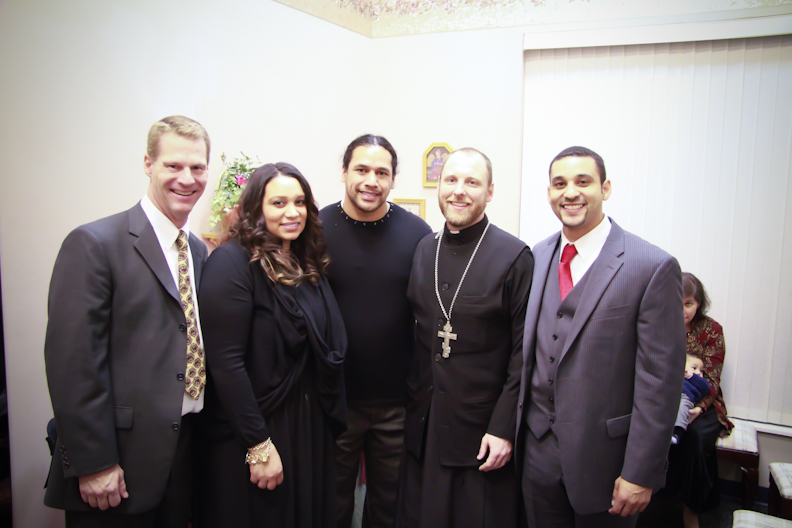 PITTSBURGH, PA (Jan. 25, 2011)—Speaking to over 450 people at the Jan. 25 FOCUS Pittsburgh fundraising dinner, Theodora Polamalu challenged those present to put their hope and desire to help those in need into action.
Theodora and her Super Bowl-bound Pittsburgh Steelers husband, Troy Polamalu, are committed to caring for those in need. Theodora, FOCUS North America Advisory Board Member, said during her address to the crowd, "to treat every person as an icon of Christ is the foremost principle of FOCUS, the heart of its mission."
Seeing that mission realized is what brought such a large crowd to the event, which was hosted by Holy Cross Greek Orthodox Church's Philoptochos Chapter and sponsored by the Pittsburgh Clergy Brotherhood. Through tickets sales, auction items, sponsorships and general donations, the event raised nearly $65,000 to further the good work of serving those in need.
"Word got out about the event and people started lining the walls," Thea Martin, Philoptochos Chapter President, said of the event which had been sold out for over a month. "The great thing is that people are excited about having a FOCUS center here. I am already hearing from people who want to help out."
Paul Abernathy, FOCUS Pittsburgh Local Director, challenged citizens of his hometown to work with FOCUS to "find the solution and get it done because people on our streets are suffering."
"The generosity of those in attendance have brought great enthusiasm and hope to the success of FOCUS Pittsburgh," Abernathy said. The FOCUS Pittsburgh center aims to have its full spectrum of services—Food, Occupation, Clothing, Understanding, Shelter—operational by Bright Week 2011.
Abernathy said the success of the event demonstrates "the power of God working through Orthodox Christians to further His kingdom in Pittsburgh."
Charles Ajalat, Chairman of the Board of Directors for FOCUS North America, said the event was an exciting beginning to what will prove to be a godly and worthwhile effort for those in need in the Pittsburgh area. "The Pittsburgh community is ready to engage in serious Orthodox social action through FOCUS North America," Ajalat said.
Guests enjoyed a gourmet Greek dinner, guest speakers including Theodora Polamalu, a silent auction with nearly 100 items including autographed Steelers jerseys, golf packages, jewelry, wine, restaurant and hotel certificates, and much more. Martin said having Troy and Theodora Polamalu there made it extra special for those who call Pittsburgh home. Excitement over the Polamalus showed with two people paying up to $5000 for signed Polamalu jerseys and another eight people bidding $12,000 for dessert that night with the celebrity couple.
"The first thing Troy did when he arrived was went into the kitchen and thanked everyone for their hard work," Martin said. "It really set the tone for the night and got them excited."
Theodora reminded guests that with nearly one-third of Pittsburgh's kids living below the poverty line and over 1400 homeless living in the city, the work of reconciling the needs of others is great.
She said she and Troy hoped that "whether the name is Polamalu or Smith, we will all share the responsibility of lifting the great name of our Lord and Savior Jesus Christ whose name is above all names." This lifting up of the Lord through the love of our neighbor will take the "aggressive and concerted means of all those gathered."
If you want to support FOCUS North America or want to hear more about what FOCUS is doing in other cities click here!
Photos from the event:
Last Updated on Tuesday, 21 December 2010 20:56 Written by Administrator Tuesday, 21 December 2010 14:27
For more information contact:
Fr. Justin Mathews, Executive Director & CEO
This e-mail address is being protected from spambots. You need JavaScript enabled to view it or 1-866-267-3083
FOCUS North America National Board of Directors Fall Meeting held at new FOCUS Center in Minneapolis, MN
FOR IMMEDIATE RELEASE – Dec. 1st, 2010 – Kansas City, MO
The Board of Directors of FOCUS North America convened their fall meeting in Minneapolis, MN at the new FOCUS Minnesota ministry center.  In attendance were 5 standing members of the national board which include: Chairman Mr. Charles Ajalat, Vice Chairman Mr. William Hoeft, Secretary Dr. Julie Papatheofanis, Mrs. Lory Barsdate Easton, Mr. Brian Gerich, Fr. Tom Avramis and Ms. Georgia Kazakis. FOCUS Executive Director, Fr. Justin Mathews, and local and national staff were present as well. The Board of Directors was especially pleased to welcome Mr. Wendell Maddox and Dr. Nick Pandelides, its two newest members of the Board of Directors, to their first meeting.
The Board took note with satisfaction, the 2009-10 performances of the various FOCUS ministry centers throughout the US established in the past year for having accomplished most of the planned activities within limited budgets. A highlight of this meeting was the ability to connect for free to the various FOCUS centers of operation nationally via Skype. Each FOCUS center was able to be present at the meeting to report back on ministry activities in their own area and to engage in a lively Q&A with board members. In only the last five months it was noted that over 500 Orthodox Christian volunteers from all jurisdictions volunteered literally thousands of hours with FOCUS NA to help provide food and care for their needy neighbors through the six new FOCUS Centers.
Attendees of this meeting also had the opportunity to work closely alongside the local Advisory Council and volunteers of FOCUS Minnesota to serve a meal to the hungry on Friday night. Nearly 90 meals were provided to those in need served by 42 volunteers representing 9 Orthodox parishes.  As a result of a shoe drive in the local parishes, free shoes and boots were also handed out to the guests as they left.
In addition to serving the poor by establishing operational FOCUS centers and supplying
parishes with needed resources, especially through the YES (Youth Equipped to Serve) Program that grew tremendously in 2010, a key part of the mission of FOCUS North America is to support existing Orthodox ministries facilitating or working directly with those most in need.  Grants were awarded to new FOCUS Partner Ministries including St. George Food Pantry (OCA, TX), St. Michael's Community Meal (Romanian, MA), Open Door Meal Ministry and St. Brigid's Pantry (Bulgarian, MA), St. Gregory of Nyssa hot lunch program (OCA, OH).  In all FOCUS North America donors helped distribute over $50,000 in partner ministry grants in 2010.
"In our challenging work to bring help and hope to our brothers and sisters in need here at home our National Board provide strong Christian vision and direction, and an example of philanthropic love that undergirds our work and our ability to serve Christ through love for our neighbors," said Fr. Justin Mathews, Executive Director.
FOCUS North America and its programs are committed to serve those in need, support Orthodox Christian social action ministries and supply parishes and others with the education, resources and training to initiate social action ministries in their own communities. In all of this, FOCUS North America continues its work restoring living Icons. FOCUS North America is a 501c3 not-for-profit organization. Donations can be made online at www.FOCUSNorthAmerica.org or checks can be made out to "FOCUS North America" and sent to: PO BOX 871578, Kansas City, MO 64187-1578