Wednesday, 08 June 2011 12:59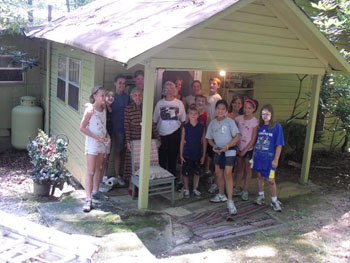 Summer plans are in full swing--days at the pool, sightseeing, and even vacations. Ever consider making one of your summer trips one of service?
FOCUS Appalachia, a domestic service center of FOCUS North America, offers church groups the opportunity to serve the working poor living in the Appalachian Mountains of North Carolina by coordinating home repair and work projects. Volunteer teams are assembled and sent between March and September to do short-term projects in the neediest parts of this region.
It's not too late to gather a group and head to Appalachia. Church groups from Pittsburgh and Longwood, Florida, will be making trips this summer to help with everything from fixing leaky roofs to installing in-home, handicap accessible bathrooms.
There is much work to be done and FOCUS Appalachia will connect your group with the appropriate project for its skills and budget.
The service trips provide an accessible and inexpensive way for volunteers to explore their own spiritual growth through the service of others, through exploring the mountains and through times of teaching and personal reflection.
If you or your church wants to participate in a service trip with FOCUS Appalachia, please contact Niko Petrogeorge at 866-267-3083 or This e-mail address is being protected from spambots. You need JavaScript enabled to view it .
Make this summer one of service!
Click here to see how one team was transformed by their service through FOCUS Appalachia!