Last Updated on Thursday, 20 October 2011 14:48 Written by Administrator Wednesday, 23 December 2009 12:15
On my last fundraising trip to St. Louis, a good friend and generous donor showed me a picture he took with his iphone of a remarkable sign just on the other side of the security checkpoint in the Milwaukee airport. I had the pleasure seeing it for myself on a recent layover in Milwaukee while heading to Pittsburgh. Indeed it was true and very funny. This is the point just after the security check where everyone is putting their laptops and other items back in their carryon's, putting their shoes, belts and coats back on, and in general reassembling themselves before moving on to their gate and flight.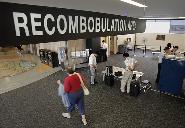 The sign which hung above this area read "RECOMBOBULATION AREA." As I just now typed the word, it didn't make it through my computer's spell check. When I right clicked on it, it had no suggestions. I had heard of the word "discombobulated" before which I looked up in the dictionary. The meaning was "upset, confused, or frustrated." Then I looked up "recombobulation" there was no such word. You have to hand it to the Cheeseheads in Milwaukee for coming up with this very creative and amazingly accurate word to describe what happens after an airport security checkpoint. In short, we are putting ourselves back together.
Isn't this what the great feast of Christmas and our New Year's resolutions are all about? Of course the word we use in our Orthodox Church is "repentance." I am not suggesting a new ecclesiastical word to replace "repentance," but it seems in this fast paced world where we do feel so hurried, confused, upset and frustrated – "recombobulation" does create a great image of what we must often do to return to God. In an article about the sign in the Milwaukee Journal-Sentinel it was reported that,
"Max Wescoe of San Diego laughed when he saw the sign. It was a moment worthy of snapping a picture on his cell phone. 'I've seen plenty of discombobulation areas,' he said, talking both about airport travel and life. He now knows the one place he can come to do something about it. 'I thought they put that up just for me,' he said."
I pray that as we celebrate the great Feast of Christmas and create New Year resolutions that the words of Max Wescoe become our words! May our Churches become the real area of "recombobulation" in our lives.
Please remember FOCUS North America during this festal season and help us serve those less fortunate than us.

Fr. Nick Kasemeotes