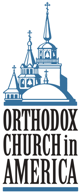 To give thanks to God for the tremendous stewardship of the OCA faithful, we are excited to announce a Thanksgiving Day Appeal with 100% of your gifts going to the programs of FOCUS North America as part of a new partnership between the Stewards of the OCA an FOCUS.
God-willing during this Nativity season we will be surrounded by family and friends; we will feel the warmth and joy of the season. And there is no doubt we will also be faced with challenges of anxiety and distress. But even in those moments we can find gratitude. In the Thanksgiving words of the ever-memorable Fr Alexander Schmemann:
"Thank You, O Lord, for the sufferings You bestowed upon us, for they are purifying us from selfishness and reminding us of the "one thing needed;" Your eternal Kingdom."
During this holiday season there will be many opportunities to give, but we hope you will consider participating in this partnership with FOCUS which will help to feed thousands of needy families during this Nativity Season.