Bad weather and a last minute change of projects didn't dampen the spirits of 21 FOCUS Appalachia volunteers who spent March 7-12 working and serving in the mountains of North Carolina.
The group of young adults from all over the Northeast set out from Pittsburgh with the vision to serve others and also to use the time together to reflect on their own spiritual needs.
Niko Petrogeorge, FOCUS North America National Ministries intern, was charged with planning and leading the trip. And although the group had planned on working together on outside home repair for a disabled couple, freezing rain dictated a necessary change in plans.
The group was rerouted to the Quiet Reflection Retreat Center in the mountains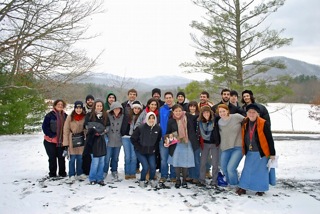 outside Asheville, North Carolina. The retreat center is run by a newly chrismated Orthodox couple who invite people to use the beautiful land and center for reflection and prayer. Badly in need of upkeep and repairs, the couple appreciated the efforts by the FOCUS Appalachia team, realizing that their hard work at the retreat center would benefit many people in the coming year.
In spite of the hard weather the group managed to erect a rock retaining wall to slow erosion, mulch, build needed chairs for the center, paint the inside of the lodge and much more.
"We realized after we arrived, that the retreat directors definitely needed our manual labor," Petrogeorge said. "But they also needed the support of their Orthodox brothers and sisters too." He said the couple participated with the group in the services, prayers, teaching and times of reflection.
"We had decided on the theme, Come and See, for the trip," Petrogeorge said. "But the real theme of our trip ended up being about transfiguration. The trip really was about us saying 'Thank you'. We went to serve, but we realized we needed to be there … It was good to be there. We were so grateful."
Petrogeorge said the group quickly become friends and were great examples of Christ's love to one another and the couple they were serving. He was impressed with the group's willingness to serve and adapt to the change in projects.
"One of the young men who was with us wasn't Orthodox," Petrogeorge said. "He remarked after one of the services we had that he felt he had been selfish his whole life and he felt very challenged because he had never really experienced that type of love and community before."
The FOCUS Appalachia program aims to provide meaningful short-term service and work projects for groups in the Appalachian Mountain region. Part of the FOCUS Appalachia experience also involves guided reflections, spiritual teaching, prayer and leisure time to enjoy the beauty of the mountains. Through prayer, work, teaching and time together, FOCUS Appalachia trips provide a holistic approach to retreat and service.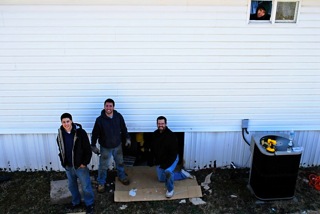 *If you or your church group wants to participate in a service trip with FOCUS Appalachia, please call Bryan Dahms, National Director of Ministries, at 866-267-3083 or email him at JavaScript required to view address. FOCUS NA will connect you with the appropriate project for your skills and budget and will arrange lodging, meals and other logistics.