Last Updated on Saturday, 11 July 2009 11:46 Written by Administrator Saturday, 11 July 2009 11:23
News - Articles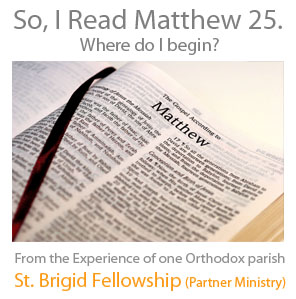 1.  Prepare. Go to confession and Holy Communion. Then go forth…
2.  Look with fresh eyes. "Who are the people in your neighborhood?..."
3.  Meet your neighbors one at a time. Learn their names. This effort is person to person, not group to group.
4.  Come near to the suffering to find their need. Don't tell them what it is.
5.  Keep boundaries, but find ways around walls.
6.  Ask gentle questions; then be silent for the answers. You will not hear otherwise. Take time to hear their stories.
7.  Be a companion and friend, not one who stands above.
8.  Look for the Image they bear, not the graffiti that covers it.
9.  Know that more than you change them, they will teach you.
10. Pray always for them that by God's grace you may pray with them.
11. Practice this for a while, and then we'll talk about "Programs"
Start with what you are able. One step at a time, not always in the same order….
Offer a cup of coffee. Host a meal or maybe just hand out sack lunches.

Open up a space (office or outdoors) at a time you can keep to so your neighbors can depend on you. Even for an hour or two a week.

Outreach. Walk to streets to meet your neighbors. Tell them where you are.

Offer mail address service at the church. Mail call at the office hours.

Offer phone number message service. Messages available at office hours.

Stock a closet of warm jackets, socks, ponchos, tarps, sleeping bags and other life savers.

Offer hygiene supplies and, better yet, a place to wash up.

Don't give cash but offer bus tokens, meal vouchers, laundry service…

Stock a food pantry. Find resources like Food Bank, markets. Help get Food Stamps

Provide lockers if possible

Computer, internet access with filters and safeguards

Emergency Micro-bank for specific needs like birth certificates or transition to housing

Referral to services…Help with the paperwork… Walk through the process with them if you can. Be a companion