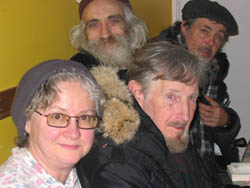 St. John the Compassionate Mission - we are entering our 25th year of sharing our life with the poor. The Mission is simply a way of life. It is about risking to be vulnerable and learning from the poor what it means to be human and how to live tenderness. Rooted in the liturgical life of the Orthodox Church, it is about living theology with those who are suffering, often right on the door steps of our churches.
155 Broadview Avenue
Toronto, ON
M4M 2E9
416-466-1357
www.stjohnsmission.org
www.livedtheologyschool.org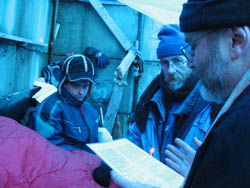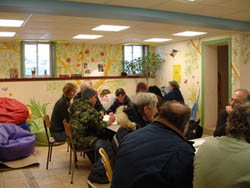 We do not target any groups. Every person, whether infant or elderly, is welcomed. Through sharing food (we serve over 2800 meals per month), providing a home (St Xenia House for the homeless), retreat work (St. Mary of Egypt Refuge) and youth work (St John's Academy). Giving work and teaching baking (St. John's Bakery), giving work and affordable clothing and household goods (St John's Thrift Store) we experience this  transformation into becoming the Body of Christ.
We are not a soup kitchen, or a social program, we are the Church on the street.  It's not for a "feel good", quick success story day trip. The Mission engages and challenges us to the very core of our faith and what it means to be an Orthodox Christian in the context of North America. You learn that love in action is a hard and dreadful reality but one that truly opens you up to all that the Orthodox  Church sings and prays and that the saints taught and lived. The poor at the Mission evangelize the Orthodox  Church.
The Lived Theology School at St. John the Compassionate is a unique opportunity to experience for a year a life where studying theology, living the liturgical life of the Church, doing mission work and living in community are all integrated.
The interns of LTS are accompanied by Father Roberto, founder of St. John the Compassionate Mission and Rector of LTS, and Sub-deacon Pawel, Prefect of the school. There is no other place right now in North America that provides this kind of experience. The students at the end of this year will have a very comprehensive understanding of what mission means in our cultural context and how it can be integrated in the life of the Orthodox Church.
LTS also offers possibilities for short-term working guest volunteers. See the website for details.