Last Updated on Sunday, 03 April 2011 23:29 Sunday, 20 March 2011 23:31
This is the second post in a Lenten series explaining the five-fold efforts of FOCUS North America to provide Food, Occupation, Clothing, Understanding, Shelter (F.O.C.U.S.) to our neediest neighbors. To read the first post in this series click here! To read more about WHAT we do and WHY we do it click here!
Although the Bureau of Labor Statistics reported that for the first time since 2007
there were more job gains than losses at the end of 2010, the unemployment rate for the United States as of March 15, 2011, was a shocking 9.5%. And unfortunately many working people still can't afford to pay their bills.
The Working Poor Families Project estimates that one out of three families in the U.S. is considered "low income." And, according to the Project, the number of working poor families continues to increase at a staggering pace, with 45 million people, including 22 million children, living in low-income working families. That is an increase of 1.7 million people since 2008.
The Project reported that more than half of working Americans "suffered a spell of unemployment, a cut in pay, a reduction in hours or have become involuntary part-time workers" since the recession began in December 2007.
In addition to the difficulty in finding work is the likelihood that working poor families are still limited to part-time work with no benefits and are generally paid minimum wage.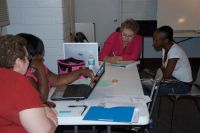 The need for OCCUPATIONAL assistance is great and at FOCUS North America the goal is to take our guests from a place of great need to a place of life recovery and self-sufficiency.
Eric Shanburn, Director of FOCUS Gateway City in St. Louis, MO, said that time and time again when he asks guests at the free Sunday-night community meal what they need the most, they say, "WORK!"
"Without work, they have no money," Shanburn said. "Without money, there is no food or clothing and no place to live."
FOCUS Gateway City provides community members with access to a computer lab for skills development, filing applications and job searches. Shanburn said they also address issues like how to dress for a job, the importance of being on time, and how to manage money. Guests can also have clothes from the working wardrobe so they have something decent to wear to an interview or good work boots and other work necessities.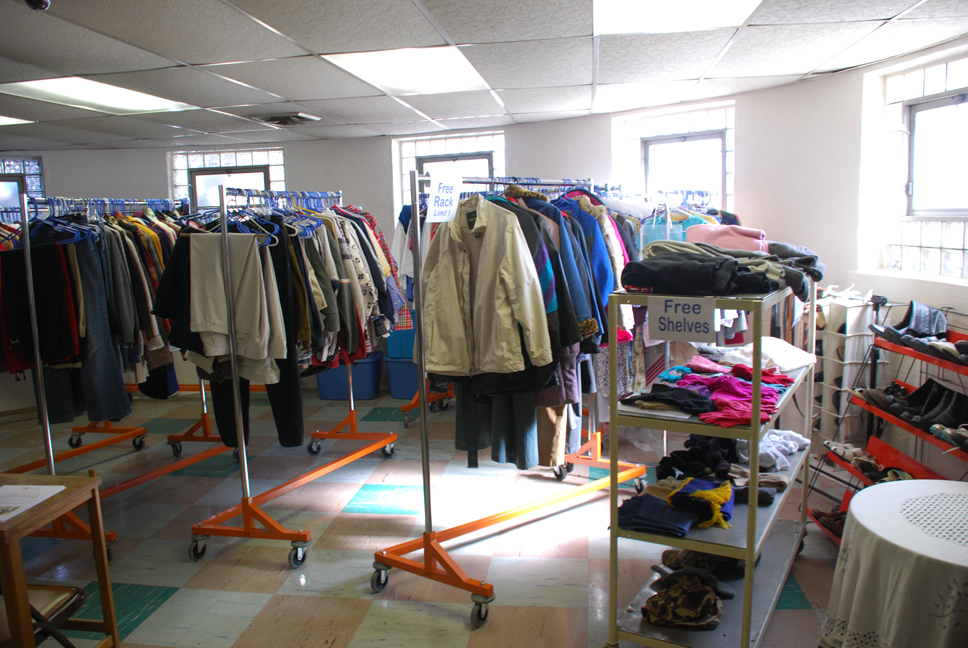 But how to get people from a place of desperation to a place of self-sufficiency is a difficult question to answer. And with recent reports indicating that there are almost five times as many unemployed workers as there are job openings, the competition is very tough.
"One of the guys coming to our Sunday night meals lives in his van down by the river," Shanburn said. "He used to do pavement work, but now he is depressed, he's dirty. He wants to work, but he needs a lot of help."
Shanburn said that homeless individuals are at the bottom of the jobless pool. "Part of where we have to begin in helping these folks is by building relationships with business owners in our communities so they will be willing to work with the people we are trying to help," Shanburn said. "Many of these folks want a job but they are starting with nothing."
Bridging the gap between these homeless men and women and people in their own community who might be willing to take a chance on hiring them to do low-skilled work like washing dishes is a critical step in moving people towards self-sufficiency
Shanburn said that for those who are among the working poor or are homeless the steps are simple but take time—learn a skill, use it, become self-sufficient.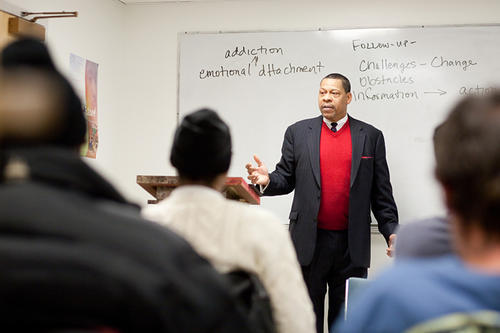 The addition of the new FOCUS ReEngage Program will provide a comprehensive job readiness and workforce initiative at FOCUS Centers nationwide.
FOCUS ReEngage is built upon proven social work principles and a strong Orthodox Christian foundation with the goal of those who complete the program being "ready to get a job, with the skills to keep a job, and with the necessary life skills to further their own life development," Fr. Justin Mathews, Executive Director of FOCUS North America said.
Developed with the assistance of the University of Missouri-Kansas City, the FOCUS ReEngage Program has seen many successful pilots in 2010 and has earned the endorsement of Congressman Emanuel Cleaver, II (D-MO).
FOCUS ReEngage Director, Rodney Knott, said that getting people ready to work is the first step. "This is where we begin to teach people how to fish, so to speak," Knott said. "We aren't going to just feed them and leave them. We want them to leave here ready to fish on their own."
Through an intensive 12-week program, participants in the FOCUS ReEngage Program will receive skills training and learn the importance of work ethics, communication skills, self-discipline, time management, budgeting, and how to develop a personal plan for the future.
Steve, a recent graduate of FOCUS ReEngage's Man Class said he really learned the things he needed to know to get a job and live on his own.
"It's the stuff my dad's been trying to tell me for years, and I never listened to him," Steve said. After completing the program Steve found a job and is moving from transitional housing into his own apartment.
Whether it is through building relationships with area business owners so homeless men and women can find work or helping to further the skills and training of low-income earners and equipping them with the necessary skills to move into a place of self-sufficiency, the calling for FOCUS North America is the same—to care for our neediest neighbors, restoring these living icons that adorn the church of the world.
Click here to read the third post in this Lenten series!
Click here to read the fourth post in this Lenten series!