Written by Administrator Thursday, 25 November 2010 12:08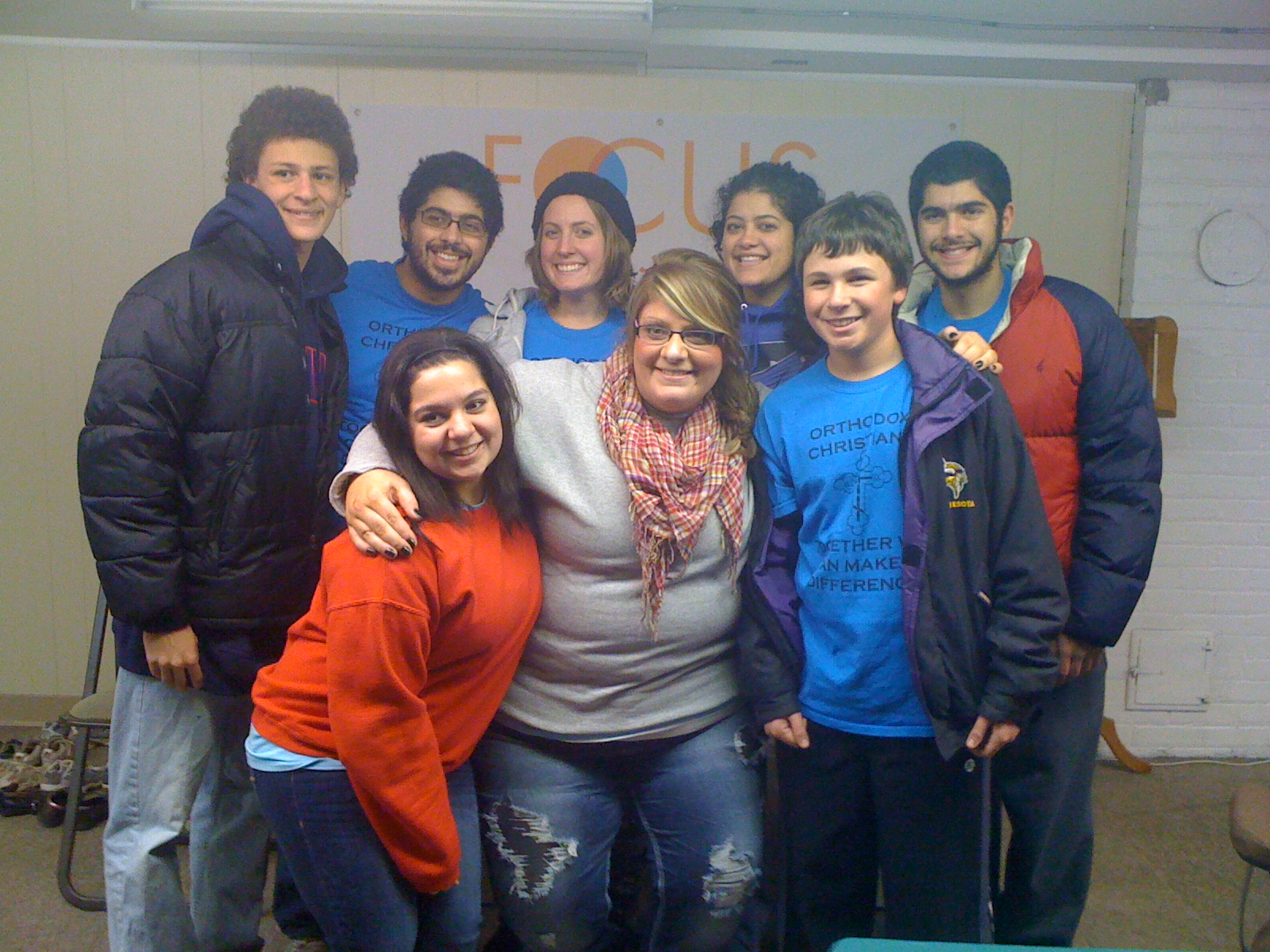 Freezing rain greeted everyone on his or her way to church Sunday morning the 21st. Emails began coming in before noon to ask if we were still going to have a FOCUS meal.  We were indeed, and by 3:00pm all the turkey and fixings were on their way to our Center. This being Thanksgiving week, we were fixing a traditional meal, and we didn't want to disappoint any of our neighbors who would be coming despite the weather.  Good thing because 42 volunteers served 110 meals! The Orthodox faithful in the Twin Cities take our shared ministry to heart. There was such a wonderful spirit in the kitchen, among the servers (special thanks to our local Teen/SOYO group) and in the dining room where free shoes and boots were still made available to our guests.
It would be true to say that there were a lot of happy people at our FOCUS meal this week, but also, unsurprisingly, we're seeing extreme loneliness. Holidays are also the times when those struggling with poverty, addiction, joblessness, etc. are so achingly lonely. Our friend Stan, who hasn't worked in 20 years because of a brain injury and has been on Social Security benefits, came in to eat. He is fortunate to have a home, but he lives there all alone, no family, and can't take in any boarders because it would upset the fine balance of his benefits. One of our wonderful volunteers, Deacon Paul, noticed him sitting alone at a table just weeping quietly while eating. Stan says he doesn't want things for himself, that his own needs are few and simply met (though he didn't have a shirt on under a zip-up hoodie); he talked about the "system," the church, God and problems with alcohol but in the end he asked with tears in his eyes, "What's the point of getting up in the morning?" What Stan was really saying was, "I am so alone, I'm so lonely, and I just wish I had someone to connect with." We at FOCUS MN grow each day in the understanding that God has mercifully blessed us to serve His creation.