Last Updated on Friday, 16 September 2011 21:56 Written by Administrator Monday, 22 February 2010 18:18
News - Articles
Saying "YES" at the Fred Jordan Mission on Los Angeles' Skid Row
By Charles Ajalat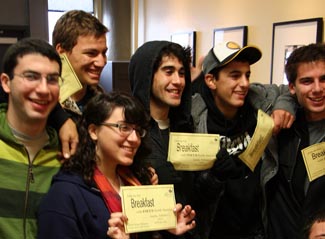 I've just come home from the FOCUS North America YES trip to the Fred Jordan Mission on skid row in Los Angeles and am still so excited I want to capture part of what happened for our supporters and Board members.
Our group of 23, included Katrina, five older "counselors" or leaders the young adults (7th graders through high school students) and myself. We started Friday, February 4 at noon with a 2 hour briefing and training session at a local Orthodox Church by our truly spiritual, truly uplifting and inspiring YES! Director, Katrina Bitar. What rapport she has with the teens and counselors, what humility, what love for the poor, what a model for our young people. God willing, she is in the process of replicating herself .
We are not only more than doubling the YES program this year but, God willing, will multiple it many times over in the near future. Preparation had been made by the staff the day and week before the YES weekend. The trip was well-planned. Peter Jordan, an Orthodox Christian, and son of the founders of the Mission, Fred and Willie Jordan, was our guide along with the staff of the Mission. Peter and the staff did an incredible job. They were extremely impressed with the YES program and these young adults, their spiritual maturity, their love for the poor, their enthusiasm, their organization. The Fred Jordan Mission staff said our group was the best they had seen!
Friday night after getting settled in at the Fred Jordan Mission (sleeping bags on the floor, with guys in one wing of the 4th floor and girls in another wing), we saw a short video on the Fred Jordan Mission, had further briefing and then "hit the streets (in the rain mind you!)" interacting with the working poor and homeless in Pershing Square in downtown Los Angeles and the four streets surrounding this large park. We broke into groups of four or five. Each group was given $3 for each member of the group and $3 for one homeless or working poor person that they would invite out to dinner. Not more was given because part of the teaching was that those without resources wouldn't be able to spend more and neither would we. Creative sharing was done and it worked beautifully. Many bought foot-long sandwiches at Subways for $5.00 with the sandwiches cut in half, so the sandwiches only cost $2.50 each but still were plenty of food. With any left over money, juice boxes for $1 were also bought.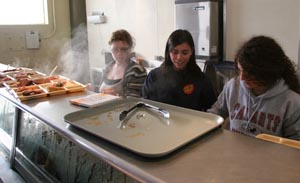 That night we debriefed back at the Mission and the stories told about meeting the poor were incredible. The enthusiasm, the interaction with the poor, the love and concern demonstrated by these young adults was nothing less than inspiring. One young woman in our group was so moved by a woman who didn't have shoes that she took her shoes off and gave them to her. The young people told stories of how a homeless woman after a long conversation with their group of four or five, in leaving them kept saying "Thank you for talking to me! Thank you for talking to me!" The young adults learned the loneliness that so many on the streets live with, unable to afford housing and yet wanting so much the love of their fellow human beings. The young adults also told stories of a homeless man who said to them, "Do you know who Jesus Christ is?" Responding that He is the Son of God, the homeless man said is that all? Our teens said, "No, He is also God Himself, the second person of the Holy Trinity." The man started hugging them saying, "So many people don't understand that! God bless you! God bless you!" The young people told stories of how the strategies given them of listening to the poor themselves and not talking about "I" this and "I that" worked so beautifully; and even the successful strategy of saying, "Can you direct us to a cheap place to get a bite to eat, and after being told of a place, saying, we'd love if it you'd like to join us." What a gracious way of not saying, "Here's what we can do for you", but rather, "Would you as an icon of the living God, honor us by joining us for a bite?"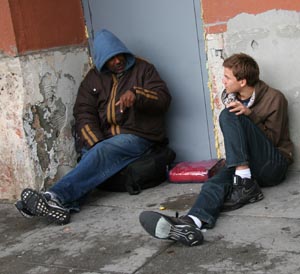 I could tell so many other stories but the various debriefings were so amazing they are hard to capture in words. Some of our young people were saying, I feel such a burden and a love to help these living icons of our Lord. Others said I wish God would take so much of the talents He's given me, away from me and share them with these beautiful people. Our wise and talented YES director said, "God uses each of you in different ways: some of you may accumulate wealth and serve the poor through your wealth; some of you may use your professional skills to further and build up those in need; some of you may enter the clergy or work in the Church; all of you can volunteer your whole life in recognizing that everyone with whom we come in contact is made in the image of God and God wants us to love that person. What is important is that you get to know these people and not ignore them, but love them as Christ Himself did." We need to remember that Christ will judge us on Judgment Day based on how we treated the "least of these my brethren," because in reality "you did it unto Me" as we learned in the following day's Gospel on Judgment Sunday.
I was pleased with the security which the staff and the Fred Jordan Mission carefully guarded the safety of our participants.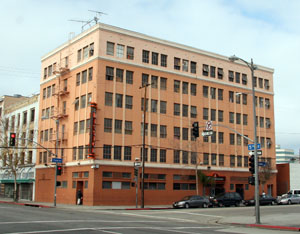 After the debriefing back at the Mission following the dinner search on the streets, we got back into our 15 passenger van and our two cars (connected by Walkie-Talkies) and did a Prayer Tour of Los Angeles where on the way in a quiet and prayerful time we were told of the statistics about the poor of Los Angeles including the fact that there were 88,000 homeless on the streets of Los Angeles, not to mention the huge numbers of working poor in all Los Angeles, two paychecks away from being homeless and in real poverty. We found out that there were 10,000 homeless in just the 10 block area surrounding Fred Jordan Mission where we were staying (we saw hundreds if not thousands on the street Sunday morning once the rain had stopped and the sun had come out). On the Prayer Tour, we also saw how society often ignored those so greatly in need and spent its resources on luxury. We went from one block of million dollar condos in one block to the next block where we saw homeless sleeping on the streets in the rain, unable to afford any shelter.
Relaxing from the intense day, after the Prayer Tour, the group went back to the Mission Friday night and had a wonderful social time being together, bonding, playing games, sharing the experiences of the day, and getting to sleep at 11 p.m.
At 8 a.m. the next morning, Saturday, we were at breakfast together with some of those being fed by the Mission's staff. Our kids did not hesitate: rather than sitting together by themselves, they spread out furthering their interaction with those living icons in need.
We then hit the streets again passing out brochures that FOCUS' YES (Youth Equipped to Serve) Program was serving breakfast to anyone who could come the next (Sunday) morning at 8:30 a.m. Again, as with the serving of food, the ethos of the Orthodox ministry is not simply to give the food, but to interact with the living icons, and this was done marvelously even in the handling out of the brochures as our young adults engaged people on the street in conversation.
We then returned to the Mission where the teens distributed hundreds of brand new blankets to the poor—we simply opened one set of doors of the Mission and from a table with the blankets on it, waited for the poor to come. Its amazing how quickly word passed from person to person and how all of a sudden so many needy showed up. After the blanket distribution, the teens did incredible work in organizing a huge quantity of canned goods—bin after bin after bin (perhaps 20 or more huge bins). They organized all the food into groups of the same kind of canned goods, so the Mission staff could dramatically more easily prepare the food boxes of canned goods that they pass out to the poor. The Mission staff was incredibly grateful. The young adults, recognizing the good work they did, felt a real sense of accomplishment.
Then it was time for a break and they played as hard as they had worked (basketball and other things), they laughed, and enjoyed themselves immensely.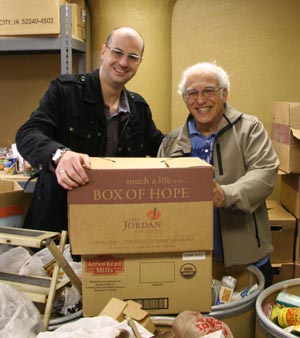 During much of that "free time," I had the honor and privilege of visiting with Willie Jordan, the wife of Fred Jordan, both of them founders of this great mission. (Fred passed into eternal life a number of years ago.) What a blessing! What a woman! What love for Christ and for the poor! Exemplary. We talked with excitement about our Lord, about the ways the Fred Jordan Mission and FOCUS North America could work together, especially through her beloved son and his wife, our Orthodox Christian brother and sister, Peter and Sophia Jordan. I think those two could be as dynamic and successful a team someday as Fred and Willie have been.
After I got back from visiting with Sister Willie, Saturday night we took the young adults out to a famous but inexpensive place in Los Angles for dinner—Philippes--where they had French-dipped sandwiches, lemonade, and pie a la mode. YUM! Then they explored the exciting area called "Olivera Street" seeing the Mexican culture and gifts and music (even playing the maracas with the Mexican band).
I, unfortunately, had commitments Sunday and was going to leave the group, but at the last minute my wife and I were able to be with them at the Mission for the Sunday morning breakfast and then later (after they attended as a group the divine liturgy at a downtown Orthodox Church), we were able to rejoin them for the final hour of de-briefing. When I thought I couldn't be with them all Sunday, I figured perhaps it was just as well because I was sure I'd not only be inspired but probably be in tears and at least the 33 hours I spent with the group were so simply incredible!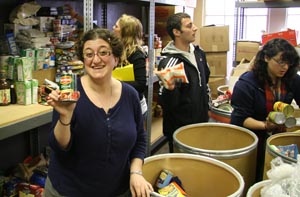 Once we rearranged our plans, we got to the breakfast at the Mission by 8:30 am, the start time. The young adults, we found out, had been punctually down in the kitchen at 7:25 am Sunday, having already packed so they would be ready to go to the Divine Liturgy as soon as they were finished. They cooked all the food, they served it (both in the serving line and by taking drinks—milk, water, juice, and hot chocolate—to each of the tables). There was also interaction with the working poor and homeless that they served, but there were such large numbers of those fed that we couldn't have full interaction because we simply didn't have the space. We would bring in groups 75 at a time (while others waited in another large room at the Mission) The Mission staff was amazed, both that 200 people came, and that our young adults cooked and served so efficiently and warmly.
In the final de-briefing at the Church, after the group had attended Divine Liturgy (and after they went out for the famous Tommy's hotdogs for lunch) I listened to the pouring out of love by the participants—both for their fellow participants and for the poor. It was truly amazing. I was in tears from the beginning to the end, just listening to them and their profound, spiritually alive comments. Katrina and the leaders told the young people that the true love they experienced this weekend could not just be love for the poor but needed to be for everyone with whom these young people would come in contact. It was important, they told them, to, without being asked, be ready to bring in the groceries from the car for your parents with graciousness and love, just as it was to have those qualities in serving the poor.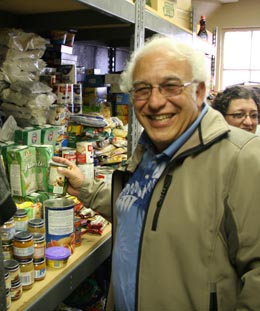 FOCUS supporters, staff, board members—we have a real jewel in our YES program—we must expand it more and more: as quickly as prudence allows. I pray that many of you may do as I did and volunteer to be involved and get your kids involved (my two sons had been on the very first trip, six years ago, but I had never experienced it). The YES trips are life-transforming experiences.
Along with all our other activities and operations at FOCUS North America, I believe our YES program is transforming others, transforming our own people and transforming ourselves, all those who work in our programs. We should be so proud of our young adults, Katrina, Fr. Justin (who makes all this possible), Jacob Lee, all our staff as well as all of our incredible Board (incidentally Board Member Dr. Julie Papatheofanis sent her two sons on the trip), and all those who help accomplish our mission, including supporters and including dedicated Orthodox Christians like Peter and Sophia Jordan. May God bless them all!
Chairman, FOCUS North America